Search results
DampRid Moisture Absorber, Fragrance Free, Refill - 42 Ounce , $5.48
This product eliminates excess moisture that can cause damp-feeling fabrics and even damage your clothes and leather goods. This product also eliminates the unpleasant, musty odor caused by mildew growth. This product won't dry the air excessively to damage plants, furniture, or household goods. It can be used in closets, bathrooms, laundry rooms, basements or anywhere that excess moisture and stale stagnant air are a problem.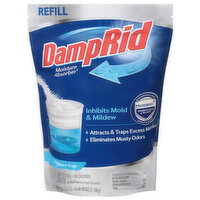 DampRid Moisture Absorber, Fragrance Free, Refill - 42 Ounce
Open Product Description
DampRid Moisture Absorber, Refillable, Fragrance Free - 10.5 Ounce , $4.18
Decorative design. Attracts & traps excess moisture. Microban: Inhibits mold & mildew (Inhibits surface damaging mold and mildew growth). Eliminates musty odors. Lasts up to 45 days (Duration will vary based on temperature and humidity). Deodorizer and mildewstatic (For aesthetic purposes only) agent. Will not harm septic systems. Tamper-resistant lid. Suggested Uses: Bathrooms; clothes closets; laundry rooms; bedrooms; offices; kitchens; storage sheds.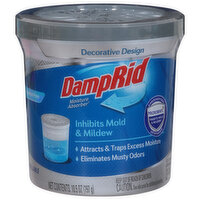 DampRid Moisture Absorber, Refillable, Fragrance Free - 10.5 Ounce
Open Product Description