Search results
Crest Dental Whitening Kit, 1 Hour Express - 1 Each , $49.98
Need to quickly whiten your teeth at home? No matter what the occasion, all you need is 1 hour to remove years of teeth stains. Made by the #1 dentist-recommended at-home teeth whitening brand, Crest 3DWhitestrips 1-Hour Express will give you a 100% noticeably whiter smile, guaranteed. This enamel-safe, at-home teeth whitening treatment will make your smile 12 levels whiter in just 10 days. Plus, the Advanced Seal Technology's comfortable, no-slip grip stays put, so you can talk and drink water and chat with friends even while whitening your teeth. Simply apply Crest 3DWhitestrips 1-Hour Express for 60 minutes a day for 10 days. This pack includes 20 teeth whitening strips, 10 for your top teeth and 10 for your bottom teeth, to be used over the course of 10 days.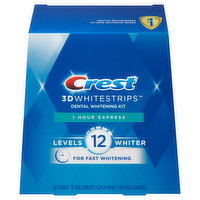 Crest Dental Whitening Kit, 1 Hour Express - 1 Each
Open Product Description
Crest Dental Whitening Kit, Classic Vivid - 20 Each , $36.98
20 strips: 10 treatments (Each with 1 upper/1 lower). Level 6 whiter. Removes 10 years of tough set-in stains with a comfortable, no slip whitening experience. Enamel Safe: Whitestrips use the same whitening ingredients as the dentist. Anti-theft program. Satisfaction 100% guaranteed. Satisfaction Guaranteed: Crest 3D Whitestrips provide you with a beatiful, whiter smile - guaranteed. If you are not satisfied with your results, Crest will send you a pre-paid card in the amount of your purchase. Simply return your receipt and package UPC within 60 days of purchase. Limit to one refund per person. Call 1-800-208-0169 for more information. Safe and effective (The ADA Council on Scientific Affairs Acceptance of Crest 3D White Classic Vivid is based on its finding that the product is safe and has efficacy in whitening natural teeth when used according to the manufacturer's instructions). ADA accepted. American Dental Association. www.crestwhitesmile.com. www.pg.com. To learn more about Crest Whitestrips go to www.crestwhitesmile.com. Questions? Call 1-800-395-8423.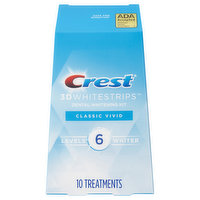 Crest Dental Whitening Kit, Classic Vivid - 20 Each
Open Product Description