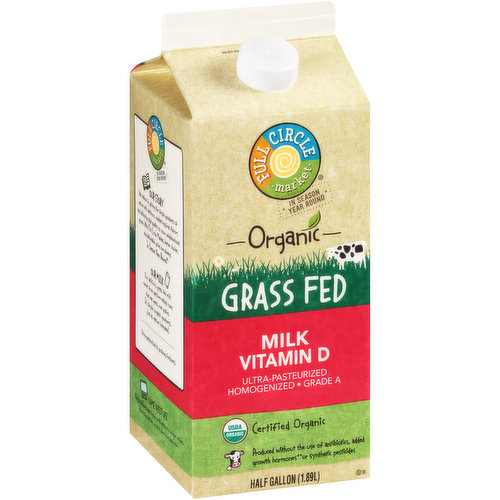 Full Circle Market Grass Fed Vitamin D Milk - 0.5 Gallon
Description
COME VISIT US! FULLCIRCLEFOODS.COM IS YOUR DESTINATION FOR UNIQUE RECIPES, INTERESTING ARTICLES, PRODUCT OVERVIEWS AND MORE. COPYRIGHT TOPCO AODA0519 OUR MILK - OUR DELICIOUS, GRASS FED MILK COMES FROM PASTURE-RAISED COWS THAT EAT GRASS, NOT GRAINS. IT'S SIMPLE, ORGANIC GOODNESS, JUST AS NATURE INTENDED! OUR STORY - WE BELIEVE IN PAIRING THE SIMPLE GOODNESS OF NATURE WITH DELICIOUS, MARKET-INSPIRED FLAVORS AND DELIVERING THAT QUALITY TO YOUR NEIGHBORHOOD GROCER. WITH FULL CIRCLE MARKET, BETTER CHOICES AND AFFORDABLE PRICES ARE ALWAYS IN SEASON YEAR ROUND. PROCESSED AND FILLED AT PLANT STAMPED ABOVE QUALITY GUARANTEED - IF FOR ANY REASON YOU'RE NOT SATISFIED, WE'LL GIVE YOU A FULL REFUND. ULTRA-PASTEURIZED TO PROLONG FRESHNESS. PERISHABLE. KEEP REFRIGERATED. CERTIFIED ORGANIC BY QAI BEST IF USED WITHIN 7 DAYS AFTER OPENING. SEE STAMP ON TOP FOR SELL BY DATE AND PROCESSED AND PACKAGED AT PLANT INFORMATION. CA NO ARTIFICIAL COLORS, FLAVORS OR PRESERVATIVES SCAN HERE FOR MORE FOOD INFORMATION
Ingredients
ORGANIC GRADE A MILK, VITAMIN D3.
Nutrition Facts
8 servings pr container
Product Number: 00036800454064
Description
COME VISIT US! FULLCIRCLEFOODS.COM IS YOUR DESTINATION FOR UNIQUE RECIPES, INTERESTING ARTICLES, PRODUCT OVERVIEWS AND MORE. COPYRIGHT TOPCO AODA0519 OUR MILK - OUR DELICIOUS, GRASS FED MILK COMES FROM PASTURE-RAISED COWS THAT EAT GRASS, NOT GRAINS. IT'S SIMPLE, ORGANIC GOODNESS, JUST AS NATURE INTENDED! OUR STORY - WE BELIEVE IN PAIRING THE SIMPLE GOODNESS OF NATURE WITH DELICIOUS, MARKET-INSPIRED FLAVORS AND DELIVERING THAT QUALITY TO YOUR NEIGHBORHOOD GROCER. WITH FULL CIRCLE MARKET, BETTER CHOICES AND AFFORDABLE PRICES ARE ALWAYS IN SEASON YEAR ROUND. PROCESSED AND FILLED AT PLANT STAMPED ABOVE QUALITY GUARANTEED - IF FOR ANY REASON YOU'RE NOT SATISFIED, WE'LL GIVE YOU A FULL REFUND. ULTRA-PASTEURIZED TO PROLONG FRESHNESS. PERISHABLE. KEEP REFRIGERATED. CERTIFIED ORGANIC BY QAI BEST IF USED WITHIN 7 DAYS AFTER OPENING. SEE STAMP ON TOP FOR SELL BY DATE AND PROCESSED AND PACKAGED AT PLANT INFORMATION. CA NO ARTIFICIAL COLORS, FLAVORS OR PRESERVATIVES SCAN HERE FOR MORE FOOD INFORMATION
Product Number: 00036800454064
Ingredients
ORGANIC GRADE A MILK, VITAMIN D3.
Nutrition Facts
8 servings pr container
Product Number: 00036800454064