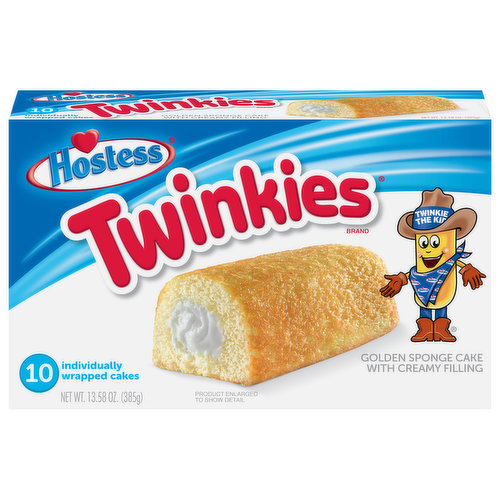 Hostess Golden Sponge Cake - 10 Each
Sale Information
Sales price valid from 9/28/2023 until 10/6/2023
Description
10 individually wrapped cakes.
Ingredients
Sugar, Water, Enriched Flour (Bleached Wheat Flour, Malted Barley Flour, Niacin, Ferrous Sulfate or Reduced Iron, Thiamine Mononitrate, Riboflavin, Folic Acid), High Fructose Corn Syrup, Tallow, Dextrose, Egg, Contains 2% or Less: Soybean Oil, Corn Starch, Modified Cornstarch, Hydrogenated Tallow, Whey, Glycerin, Salt, Sodium Acid Pyrophosphate, Baking Soda, Enzymes, Sorbic Acid and Potassium Sorbate (to Retain Freshness), Cottonseed Oil, Mono and Diglycerides, Cellulose Gum, Sodium Stearoyl Lactylate, Soy Lecithin, Xanthan Gum, Polysorbate 60, Monocalcium Phosphate, Natural and Artificial Flavor, Yellow 5, Red 40. 527177
Nutrition Facts
5 servings pr container
Product Number: 00888109110109
Sale Information
Sales price valid from 9/28/2023 until 10/6/2023
Description
10 individually wrapped cakes.
Product Number: 00888109110109
Ingredients
Sugar, Water, Enriched Flour (Bleached Wheat Flour, Malted Barley Flour, Niacin, Ferrous Sulfate or Reduced Iron, Thiamine Mononitrate, Riboflavin, Folic Acid), High Fructose Corn Syrup, Tallow, Dextrose, Egg, Contains 2% or Less: Soybean Oil, Corn Starch, Modified Cornstarch, Hydrogenated Tallow, Whey, Glycerin, Salt, Sodium Acid Pyrophosphate, Baking Soda, Enzymes, Sorbic Acid and Potassium Sorbate (to Retain Freshness), Cottonseed Oil, Mono and Diglycerides, Cellulose Gum, Sodium Stearoyl Lactylate, Soy Lecithin, Xanthan Gum, Polysorbate 60, Monocalcium Phosphate, Natural and Artificial Flavor, Yellow 5, Red 40. 527177
Nutrition Facts
5 servings pr container
Product Number: 00888109110109