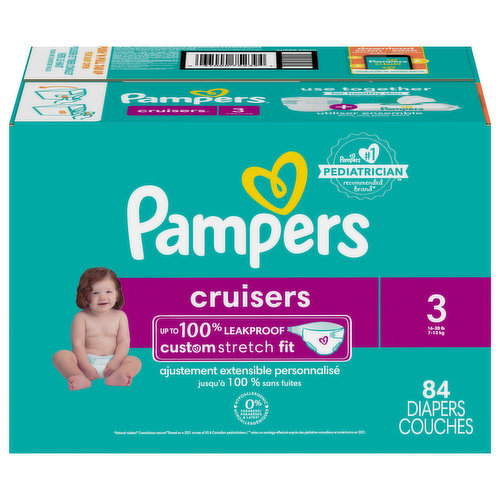 Pampers Diapers, 3 (16-28 lb), Super Pack - 84 Each
$28.98
was $29.98
$0.34 each
Sale Information
Sales price valid from 9/6/2023 until 9/27/2023
Description
Say hello to Custom Fit and reliable protection for the most active babies! Pampers Cruisers adjust to your baby's unique shape and size with our Custom Stretch Fit System, featuring 2x stretchier* sides for a comfy, long-lasting fit perfect for babies on-the-go. Plus, our easy-to-use fit guide on the front of the diaper helps you get the perfect customized fit. So, no matter how much your baby moves, their diaper will stay put.Pampers Cruisers are also specially designed to deliver up to 100% leakproof protection thanks to our Dual Leak-Guard Barriers that gently seal around your little one's legs and bottom to stop leaks where they happen most. Plus, Cruisers feature our LockAway Channels that absorb wetness and lock it away from skin. And forget about wondering when your baby needs a change. The Pampers Wetness Indicator lets you know, eliminating messy guesswork. Pampers Cruisers come in a variety of prints to protect your baby in style. Plus, Pampers Cruisers are hypoallergenic and free of parabens and latex,** so, they're gentle on your baby's skin.Pampers Cruisers diapers are available in sizes 3, 4, 5, 6, and 7. Packaging and prints may vary.*Vs. the leading moving baby sub-brand**Natural rubber
Ingredients
Petrolatum, Stearyl Alcohol, Aloe Barbadensis Leaf Extract.
Product Number: 00037000752394
Sale Information
Sales price valid from 9/6/2023 until 9/27/2023
Description
Say hello to Custom Fit and reliable protection for the most active babies! Pampers Cruisers adjust to your baby's unique shape and size with our Custom Stretch Fit System, featuring 2x stretchier* sides for a comfy, long-lasting fit perfect for babies on-the-go. Plus, our easy-to-use fit guide on the front of the diaper helps you get the perfect customized fit. So, no matter how much your baby moves, their diaper will stay put.Pampers Cruisers are also specially designed to deliver up to 100% leakproof protection thanks to our Dual Leak-Guard Barriers that gently seal around your little one's legs and bottom to stop leaks where they happen most. Plus, Cruisers feature our LockAway Channels that absorb wetness and lock it away from skin. And forget about wondering when your baby needs a change. The Pampers Wetness Indicator lets you know, eliminating messy guesswork. Pampers Cruisers come in a variety of prints to protect your baby in style. Plus, Pampers Cruisers are hypoallergenic and free of parabens and latex,** so, they're gentle on your baby's skin.Pampers Cruisers diapers are available in sizes 3, 4, 5, 6, and 7. Packaging and prints may vary.*Vs. the leading moving baby sub-brand**Natural rubber
Product Number: 00037000752394
Ingredients
Petrolatum, Stearyl Alcohol, Aloe Barbadensis Leaf Extract.
Product Number: 00037000752394